FREE AT-HOME COVID-19 TESTS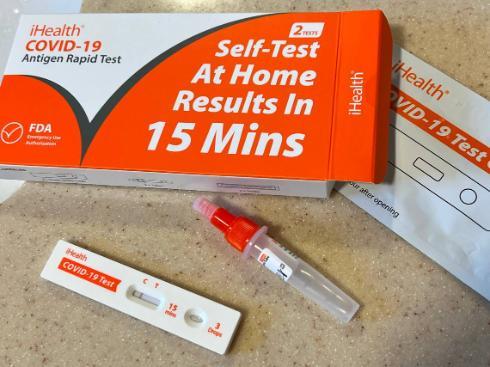 Every home in the United States is eligible to order 4 free at-home COVID-19 rapid antigen tests. Orders will usually ship in 7-12 days. These tests give results within 30 minutes (no lab drop-off required). COVID-19 self-tests (also referred to as home tests or over-the-counter tests) are one of many risk-reduction measures, along with vaccination, masking, and physical distancing, that protect you and others by reducing the chances of spreading COVID-19.
Self-tests can be taken at home or anywhere, are easy to use, and produce rapid results. You can use self-tests, regardless of vaccination status, or whether or not you have symptoms. Follow all the manufacturer's instructions for performing the test.
FTA Drug and Alcohol Program National Conference March 14-16, 2023
Save the date for the 16th Annual FTA Drug and Alcohol Program National Conference on March 14-16, 2023 in San Diego, CA.
This conference is free of charge and will be in-person, with several sessions available virtually. Registration for the conference will open in January 2023 and a room block will be available at a discounted rate of $181 per night at the conference hotel.
More information about the conference will be available in the coming weeks on the FTA Drug & Alcohol Program website.
MoDOT InTRANSIT NEWSLETTER
FTA DRUG & ALCOHOL TRAINING PROGRAM (5310 & 5311 AGENCIES WITH D&A PROGRAM ONLY)
Attendees:

Drug & Alcohol Program Managers (DAPM) - Mandatory / Third Party Administrators (TPA) - Optional
Training Hosts: Federal Transit Administration (FTA)
When: Wednesday, March 29, 2023, 8:30 am to 4:30 pm
Location: MoDOT Central District - 1511 Missouri Blvd., Jefferson City, MO 65109, in the Muri Room
Registration: Email the names of attendees (maximum of 2 per subrecipient) to: MOTransit@modot.mo.gov
MoDOT TRANSIT SUBRECIPIENT COMPLIANCE WORKSHOPS
MoDOT announces a return to in-person annual oversight training! In March 2023 and April 2023, MoDOT is hosting mandatory training for all FTA Section 5309, 5310, 5311 and 5339 recipients. MoDOT staff will also be attending these workshops and are excited to see all of you again.
MoDOT engaged Milligan Consulting, LLC (Milligan) to conduct the workshops and oversight reviews. Milligan provides technical assistance throughout the review process to achieve compliance with the FTA requirements. The training addresses federal grant requirements and MoDOT's compliance review approach for the Sections 5309, 5310, 5311, and 5339 programs. Throughout the oversight cycle, Milligan provides technical assistance to assure compliance with the requirements.
Please choose the regional MoDOT Office location that works best for you and register by March 17, 2023.
DATE
DATE
LOCATION
ROOM
REGISTRATION LINK

Monday, March 20, 2023
9:00 am to 4:00 pm

MoDOT NW District Office
3602 North Belt Hwy
St. Joseph, MO 64506

NW Conference
Center Room

Monday, March 20, 2023

Tuesday, March 21, 2023
9:00 am to 4:00 pm

MoDOT KC District Office
600 NE Colbern Road,
Lee's Summit, MO 64086

KC Conference Room 135

Tuesday, March 21, 2023

Wednesday, March 22, 2023
9:00 am to 4:00 pm

MoDOT SW District Office
3025 East Kearney
Springfield, MO 65803

SW Conference
Rooms 2 & 3

Wednesday, March 22, 2023

Thursday, March 23. 2023
9:00 am to 4:00 pm

MoDOT Central Office Lab
1617 Missouri Boulevard
Jefferson City, MO 65102

2nd Floor Construction
Conference Rooms
East & West

Thursday, March 23, 2023

Monday, April 3, 2023
9:00 am to 4:00 pm

MoDOT NE District Office
1711 S. Highway 61
Hannibal, MO 63401

NE Mississippi River Room

Monday, April 3, 2023

Tuesday, April 4, 2023
9:00 am to 4:00 pm

MoDOT SL TMC Center
14301 South Outer 40 Road
Town and Country
Chesterfield, MO 63017

TMC Conference Room 209

Tuesday, April 4, 2023

Wednesday, April 5, 2023
9:00 am to 4:00 pm

MoDOT SE District Office
2675 North Main Street
Sikeston, MO 63801

SE SK District
Conference Room

Wednesday, April 5, 2023
ONLINE TRAINING OPPORTUNITIES
CTAA: CONFLICT MANAGEMENT AND DE-ESCALATION FOR TRANSIT DRIVERS AND SUPERVISOR
With appreciation, CTAA thanks the New Mexico Department of Transportation (Transit and Rail Division), for providing transit agencies in every state with free access to this course. Also to Ream Lazaro, long time nationally recognized transit industry safety, security and training expert.
Agenda: The Risk; De-escalation Strategies; Signs of Escalating Conflict; Responding to Danger; Review of Key Points
Cost: $0
Enroll Now
CTAA: UNDERSTANDING PASSENGERS WHO HAVE EXPERIENCED TRAUMA
Created for public transportation, NEMT, specialized transportation, and other drivers who interact with the general public on a daily basis. It's purpose is to educate drivers on the impacts that past traumatic events can have on individuals and how those impacts may play out in a transportation setting.
Cost: $0
Enroll Now
Cybersecurity Resources for Transit Agencies
Fourth Quarter 2022 MO-RTAP eNewsletter
TRANSIT SYSTEMS TAKING STEPS TO COMBAT HUMAN TRAFFICKING