JUNE IS NATIONAL SAFETY MONTH
Join the National Safety Council (NSC) and organizations across the country by raising safety awareness during National Safety Month. Observed annually in June, National Safety Month focuses on reducing leading causes of injury and death at work, on the road and in our homes and communities.
This year the following weekly topics will be highlighted during National Safety Month:
Week 1: Musculoskeletal Disorders - MSD's are a leading cause of workplace injury and cost billions each year in workers' compensation and iost productivity. Gain the latest resources and practical tools to help your organization take action.
Week 2: Workplace Impairment - We all know the dangers of substance use on the job. But did you know mental distress, stress and fatigue are also impairing? Access resources to recognize the signs and address impairment, in all its forms.
Week 3: Injury Prevention - In 2020 alone, ore than four million workplace injuries required medical attention in the U.S. Learn about approaches to preventing injuries and deaths, including identifying hazards and assessing risks.
Week 4: Slips, Trips, and Falls: With falls the second-leading cause of unintentional injury-related death, this week we'll focus on reducing slips, trips and falls, falls from heights and how technology can play a role in saving lives.
FREE AT-HOME COVID-19 TESTS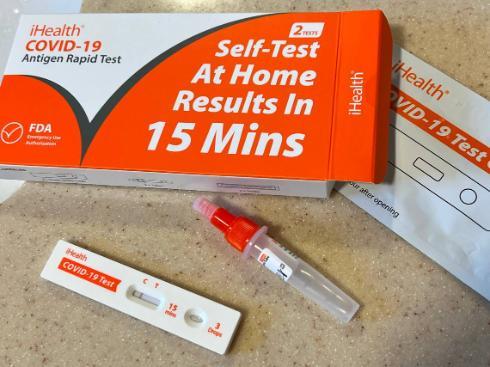 Every home in the United States is eligible to order 4 free at-home COVID-19 rapid antigen tests. Orders will usually ship in 7-12 days. These tests give results within 30 minutes (no lab drop-off required). COVID-19 self-tests (also referred to as home tests or over-the-counter tests) are one of many risk-reduction measures, along with vaccination, masking, and physical distancing, that protect you and others by reducing the chances of spreading COVID-19.
Self-tests can be taken at home or anywhere, are easy to use, and produce rapid results. You can use self-tests, regardless of vaccination status, or whether or not you have symptoms. Follow all the manufacturer's instructions for performing the test.
OPERATOR RECOGNITION BREAKFAST AT 2022 MPTA CONFERENCE & EXPO
2022 MPTA CONFERENCE & EXPO. SEE YOU IN SPRINGFIELD, MO!
National Regional Transportation Conference 2022
ONLINE TRAINING OPPORTUNITIES
NTI: CRISIS COMMUNICATIONS FOR TRANSIT MANAGERS
Upcoming Online Deliveries:
Description:
In this course, participants will develop the skills needs to communicate essential information to customers, stakeholders and employees during critical incidents faced by a transit agency.
Agency-wide planning and training are essential. But having detailed communications plans for every possible situation isn't realistic. This session will present the essentials of an effective crisis communications program that can be scaled to most any agency size or crisis scenario. The presenter is a veteran transit communicator and former reporter who has worked through pandemics, transit service disruptions, fatalities, leadership controversies and active shooters.
Objectives:
Following the completion of this course you will be able to
Identify and prepare the communication elements of an effective transit agency crisis management plan
Communicate effectively with customers, employees, stakeholders, and the media during a crisis
Prepare and coach spokespersons, executives, board members, and subject matter experts for interviews and public presentations​
Develop success measures to determine the effectiveness of the communication
Length: Online, 2 consecutive days, 1:00pm - 4:30pm EASTERN
Contact: Amy Gornik abadaracco@nti.rutgers.edu
CTAA: CONFLICT MANAGEMENT AND DE-ESCALATION FOR TRANSIT DRIVERS AND SUPERVISOR
With appreciation, CTAA thanks the New Mexico Department of Transportation (Transit and Rail Division), for providing transit agencies in every state with free access to this course. Also to Ream Lazaro, long time nationally recognized transit industry safety, security and training expert.
Agenda: The Risk; De-escalation Strategies; Signs of Escalating Conflict; Responding to Danger; Review of Key Points
Cost: $0
Enroll Now
CTAA: UNDERSTANDING PASSENGERS WHO HAVE EXPERIENCED TRAUMA
Created for public transportation, NEMT, specialized transportation, and other drivers who interact with the general public on a daily basis. It's purpose is to educate drivers on the impacts that past traumatic events can have on individuals and how those impacts may play out in a transportation setting.
Cost: $0
Enroll Now
FEDERAL MASK REQUIREMENT EXTENDED TO 05/03/2022 FOR PUBLIC TRANSPORTATION (04/13/2022)
The Transportation Security Administration (TSA) extended the security directive requiring masks on public transportation conveyances and hubs through May 3, 2022. Read the TSA announcement here.
During this time, the Centers for Disease Control and Prevention (CDC) will work with the U.S. Department of Transportation (USDOT) regarding when and under what circumstances masks should be required for public transportation in the future. Any changes will be based on the COVID-19 community levels, risk of new variants, national data, and the latest science.
Please share the mask requirement information with colleagues and send questions to TransitMaskUp@dot.gov
FTA DRUG AND ALCOHOL NEWSLETTER MARCH 2022 ISSUE 74
Issue 74 includes information on U.S. Department of Transportation (DOT) Alcohol Testing, situation changes after post-accident determination, contracted ride-sourcing companies Part 655 requirements, Section 5310 funding frequently asked questions, Random Testing Rates for all DOT agencies, FTA Drug & Alcohol Policy and Compliance guidance updates, FTA Drug & Alcohol Management Information System Report March 15, 2022 deadline reminders and FTA Drug & Alcohol Audit insights. Issue 74
Cybersecurity Resources for Transit Agencies
First Quarter 2022 MO-RTAP eNewsletter