FREE AT-HOME COVID-19 TESTS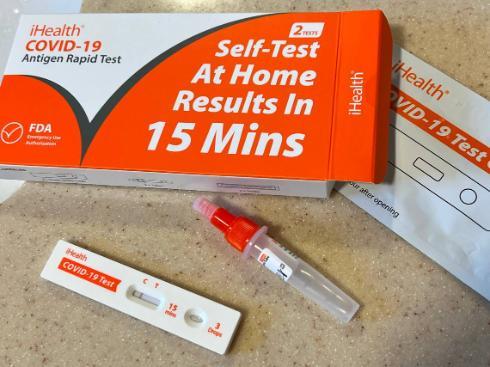 Every home in the United States is eligible to order 4 free at-home COVID-19 rapid antigen tests. Orders will usually ship in 7-12 days. These tests give results within 30 minutes (no lab drop-off required). COVID-19 self-tests (also referred to as home tests or over-the-counter tests) are one of many risk-reduction measures, along with vaccination, masking, and physical distancing, that protect you and others by reducing the chances of spreading COVID-19.
Self-tests can be taken at home or anywhere, are easy to use, and produce rapid results. You can use self-tests, regardless of vaccination status, or whether or not you have symptoms. Follow all the manufacturer's instructions for performing the test.
2022 MPTA CONFERENCE & EXPO
ONLINE TRAINING OPPORTUNITIES
CTAA: CONFLICT MANAGEMENT AND DE-ESCALATION FOR TRANSIT DRIVERS AND SUPERVISOR
With appreciation, CTAA thanks the New Mexico Department of Transportation (Transit and Rail Division), for providing transit agencies in every state with free access to this course. Also to Ream Lazaro, long time nationally recognized transit industry safety, security and training expert.
Agenda: The Risk; De-escalation Strategies; Signs of Escalating Conflict; Responding to Danger; Review of Key Points
Cost: $0
Enroll Now
CTAA: UNDERSTANDING PASSENGERS WHO HAVE EXPERIENCED TRAUMA
Created for public transportation, NEMT, specialized transportation, and other drivers who interact with the general public on a daily basis. It's purpose is to educate drivers on the impacts that past traumatic events can have on individuals and how those impacts may play out in a transportation setting.
Cost: $0
Enroll Now
FTA STANDARDS DEVELOPMENT PROGRAM: OVER-THE-COUNTER AND PRESCRIPTION DRUG USE IN THE PUBLIC TRANSIT INDUSTRY (REPORT 0217)
FTA-Report-No-0217.pdf

This report includes background research and analysis on the need for new standards, recommended practices, guidance documents, or procedural considerations in the areas of prescription(Rx) and over-the-counter (OTC) medication risk management. Last updated: Friday, June 3, 2022
FTA DRUG AND ALCOHOL NEWSLETTER - JULY 2022, ISSUE 75
Issue 75, last updated July 7, 2022 includes information on -
Preliminary Management Information System (MIS) Results
State & Local Legislation Prohibiting Testing for Marijuana Does Not Apply to DOT Employers
Operators of Revenue Service Vehicles on Transit or Private Property Are Covered
Previous Employers Must Respond to Requests for DOT Testing Information
Cancelled Random Tests Do Not Count Toward Minimum Requirements
What Happens When a Collector Finds Items Used to "Beat" A Drug Test?
CBD is Not Regulated and May Generate a THC Positive
Grantee's Access to Records when Maintained by a Third-party Administrator (TPA)
Dedicated Employer Representative (DER) Must Remove Employee from Safety-Sensitive Functions While Awaiting Split Specimen Test Results
Obtaining Contractor Records
Drug and Alcohol Substance Abuse Trainings Available
Prescription Medication Cannot be Verified Solely Using Photographs
Finding a Qualified Substance Abuse Professional (SAP)
Step 1 of the Custody and Control Form (CCF) - Collection Site Address
What Will the MRO Report to the DER When There Is a Laboratory Positive, Adulterated, or Substituted Test Result?
DRUG AND ALCOHOL TRAINING
FTA is sponsoring the following upcoming training events related to FTA's Drug And Alcohol testing program. Visit FTA's Office of Transit Safety & Oversight Training Page to view other FTA-sponsored training events as well as on-online training resources.
Cybersecurity Resources for Transit Agencies
Third Quarter 2022 MO-RTAP eNewsletter Thank You Excelsior Springs!
TRANSIT SYSTEMS TAKING STEPS TO COMBAT HUMAN TRAFFICKING