Current Advisory Committee Members:
Larry Benz, Director, Cole County Public Works
& MACTO representative
Patrick Bonnot, Loss Control and Member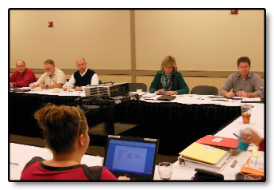 Services Director, MIRMA
Batina Dodge, County Clerk
Scotland County
Mike Geisel, City Administrator, City of
Chesterfield & APWA representative
Tracy Graham, Associate Commissioner, Audrain
County, CCAM representative
Dan Hausman, County Council Member,
University of Missouri Extension
Stuart Haynes, Policy & Membership Associate,
Missouri Municipal League

Dan Jessen, Street Operations Supervisor, City of
Springfield Public Works

Bruce McGregor, Director of Public Works, City
of Olivette & APWA representative
Sean McGonigle, Risk Manager,
Missouri Association of Counties
John P. Miller, Safety Engineer,
FHWA Missouri Division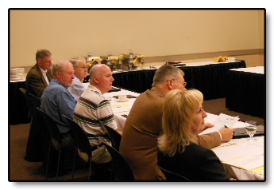 Dawn Perkins, Transportation Engineer,
FHWA Missouri Division
Bonnie Prigge, Executive Director,
Meramec Regional Planning Commission &
MACOG representative
Dan Ross, Executive Director,
Missouri Municipal League
James Stevenson, Program Implementation
Team Leader, FHWA Missouri Division
Julie Stotlemeyer, Local Programs Administrator,
MoDOT
Bill Stone, Research Administrator, Construction
and Materials, MoDOT
MoDOT Ambassadors: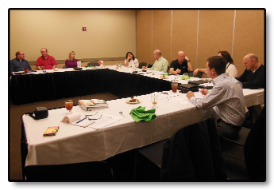 The MoDOT Ambassadors represent each of the seven MoDOT districts and provide Missouri LTAP with a direct link to the local agencies and customers within each district. They help communicate information as well as provide feedback on the customers' needs. They find out what types of programs are necessary, how well existing programs are received, and help make introductions between the LTAP staff and county commissioners and other pertinent local government officials. An ambassador's meeting is held every December.
Current MoDOT District Ambassadors:
Northwest – Vacant
Northeast – Bob Manzke
Kansas City – Marsela Ward
Central – Kim Tipton
St. Louis – Russell Klein
Southwest – Chad Zickefoose and Julie Zibert
Southeast – Elquin Auala